Picsart App.
August 23, 2021

Your All-in-One AI-Powered Photo and Video Editor
Join the vibrant Picsart community, comprising over 150 million creators worldwide, and embark on a creative journey like no other. With the Picsart AI photo editor and video editor at your fingertips, your imagination knows no bounds. This versatile platform empowers you to breathe life into your creative visions, offering a comprehensive suite of AI-powered editing features to elevate your content.
A World of Creative Possibilities
Picsart opens up a world of creative possibilities, allowing you to:
1. Perfect Your Photos:
Experiment with trending filters and popular photo effects.
Effortlessly erase and replace backgrounds with the Background Eraser.
Polish your images and remove unwanted objects with the Remove Object tool.
Access a vast library of curated, free images or edit your own.
Add text to your photos using over 200 designer fonts.
Elevate your selfies with features like hair color changer and makeup stickers.
Achieve professional-looking results with AI-powered background blur.
2. Explore AI Tools:
Enhance the quality of low-resolution images with AI Enhance.
Transform text into images using AI Image Generator to create unique, customizable visuals.
Apply stylized AI Filters to your photos with a single tap, including captivating anime styles.
Seamlessly replace elements in your photos using AI Replace.
Generate personalized avatars in various styles by uploading photos of yourself with AI Avatar.
3. Craft Captivating Videos:
Create and edit videos with an intuitive video editor, complete with a vast music library.
Elevate your IG Stories, TikToks, and Reels with professional-grade editing tools.
Add music to your videos from our extensive library.
Crop video clips to the perfect dimensions and ratios.
Experiment with video effects and trendy filters.
Trim videos or merge them intelligently for seamless transitions.
Compile your best moments into captivating video collages.
4. Embrace Collage Making:
Craft on-trend photo collages with your favorite images.
Experiment with various collage styles, including photo grids, freestyle collages, scrapbooks, and frames.
Get in on the fun with our meme generator and share your creations with friends.
Elevate your Instagram game with Story templates through the Story Maker.
5. Sticker Maker and Free Stickers:
Explore a treasure trove of over 60 million Picsart stickers.
Add a touch of fun to your edits with custom stickers.
6. Dive into Photo Effects and Filters:
Transform yourself into a cartoon character in seconds with Magic effects.
Highlight your selfies with the popular Sketch effects.
Apply AI Filters in a variety of styles, including captivating anime aesthetics.
7. Streamline Your Editing with Replay:
Easily recreate trending edits with just a few taps.
Cut your editing time in half with customizable steps.
Maintain a consistent and on-trend Instagram feed by creating personal presets.
8. Embrace Your Inner Artist with Drawing Tools:
Unleash your creativity with Picsart Draw, featuring customizable brushes, layers, and professional drawing tools.
Doodle on pictures and create transparent clothing effects.
Begin with a blank canvas to craft art and illustrations that are uniquely yours.
Picsart Gold: Elevate Your Editing Experience
For an ad-free and enhanced editing experience, consider Picsart Gold. With a Picsart Gold subscription, you gain access to exclusive content, ensuring you have all the top features at your fingertips.
Start Your Creative Journey with Picsart Gold
Begin your Picsart Gold membership with a free trial (limited to one per Apple account). Once the trial period concludes, a nominal subscription fee will apply. Auto-renewal is enabled unless turned off at least 24 hours before the current subscription period ends. Manage your membership and auto-renewal settings through your Apple account.
COLLAGE MAKER
• Create on-pattern photograph compositions with your #1 pictures .
• Try photograph lattice montage, free-form collection, scrapbook, and casings for pictures .
• Go viral with our image generator and offer with companions .
• Use the Story Maker and level up your Instagram game with Story formats.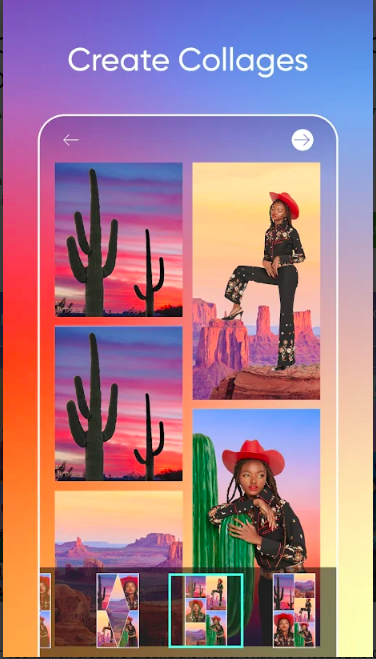 STICKER MAKER + FREE STICKERS
• Discover over 60+ million Picsart stickers.
• Add stickers to pictures to turn up the pleasant level on your alters.
• Download any sticker free of charge and use it quickly.
• Make your own clipart and make one-of-a-kind custom stickers.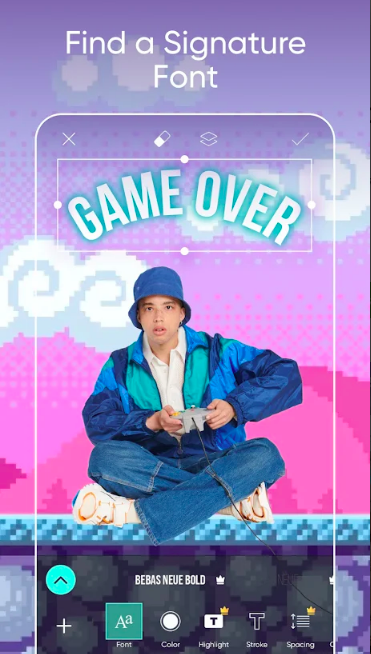 PHOTO EFFECTS AND FILTERS
• Outline selfies with the famous Sketch impacts.
• Turn pictures into creative show-stoppers with Canvas impacts.
• Make Drip Art with trickling impact stickers and alter the mix mode.
• Cartoon yourself in seconds with astounding Magic impacts.
DRAWING TOOL
• Employ Picsart Draw with adjustable brushes, layers, and ace drawing devices.
• Doodle on pictures and make a straightforward garment impact.
• Start with a fresh start to make craftsmanship and representations without any preparation.
• Play with Doodle Art and scrawl away for quite a long time .rt paintingg
APP NEGATIVITY
Lately, the app has been updated and some of its features have been removed, People reviews said that the update is terrible.
While saving the picture an add pop-up.
A lot of filters people usually use are added to picsart premium, the app must create new features, but removing previously free available features is highly ridiculous .